Napravljen konačni prijedlog projekta za 2008/2009.godinu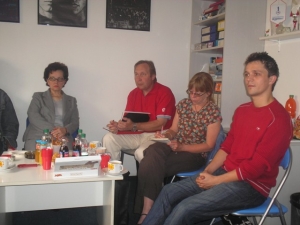 U periodu od 7-10 juna u Sarajevu je boravila delegacija Handelsa Švedska iz Sandswalla kako bi zajedno sa predstavnicima FIET projekat te sekcija mladih i žena STBIH napravila konačan prijedlog projekta fokusiranog na niz trening aktivnosti u periodu od početka 2008 do kraja 2009 godine.
Projekat će imati za cilj da ojača sposobnosti,znanja i vještina ciljane grupe od 30 predstavnica sekcije žena i mladih iz FBIH ali i RS te da kroz niz aktivnosti ojača njihovu sposobnost primjene stečenih vještina u njihovim specifičnim sredinama.
Pored dogovora o samom projektu delegacija je posjetila ured FIET Projekta u Zenici i na licu mjesta se upoznala sa aktivnostima ove dvije sekcije STBIH te u razgovoru sa predstavnicom ICTU ureda za Jugoistočnu Evropu dobili uvid u generalne aktivnosti žena u sindikalnom pokretu BiH.
Projekat je kao takav predat od strane naših kolega iz Švedske u Olaf Palme Fondaciju koja bi nadam se nakon završetka procesa odobravanja isti i finansirala.
Detaljan prijedlog projekta možete naći u prilogu.
FIET PROJECT OFFICE
SARAJEVO
Planning Training Program
for Women's Section of STBIH
Streinghtening the skills and knowledge of Women Representatives in STBIH
1.Basic for the training
to continue strainghtening the present very well developed women's network in STBiH
to support the STBiH in representing its activities in the localities and promoting rights and interest of its members with the special focus on women and youth
to support the organizing in Goražde region and by this also  the development of the unions structures in that region
2.Traget groups
The main target group:
Women's Section of STBIH – a group of very active women, 30 participants.
Other target groups:
women's representatives gathered in Women's Network of BIH

representatives of Youth section of commerce unions in BIH
3.Planning actions
five seminars during 2008-2010, 2-3 days each

concrete projects followed by the seminars (participants divided in to 6 groups with 5 in each)

see the matrix for details
4.Planning implementation
Seminar organized in cooperation with Project partners from Sweden + local experts(lectures) and FIET Project coordinators.

Projects to be implemented in between the seminars by the group members in cooperation with the Project staff

General project task is relation to the issues discussed on the seminar will be implemented by different concrete actions defined after the seminar on the group meetings.
IMPLEMENTATION PLAN
Summer 2007  Planning Seminar
8-9 June   Planning of the training
Objectives:
to make a detailed plan for the program
Content:
orientation to Training

Issues and topics development

division into projects
Responsible persons:
Handels' representatives

FIET Project representative
Spring 2008  Seminar 1
Objectives:
to evaluate present level of women's activities in STBIH

to develop tools to distribute information in the localities
Content:
Information and communication

Strategy of communication

Starting point for the Group work
Summer 2008  Project number 1
developing the system of information on the working place level

Producing the information material and its distribution in the locality
Autumn 2008   Seminar 2
Objectives:
to develop the system of campaigning in the union movement

to develop the tools for effective campaignes

Starting point for the group work
Content
report on project results (Group presentations)

tools for effectives campaignes

campaignes in BiH society
Spring 2009   Project number 2
Planning and implementing a small scale union campaigne in the locality
End of summer 2009 Seminar 3
Objectives:
to develop the system of effective local training

to develop tools for effective training
Content:
report on project results (Group presentations)

tools for effective training

participatory methods
Autumn 2009  Project number 3
Planning and implementation of the training course in one working place
Spring 2010  Final Evaluation Seminar
Objectives:
to evaluate the Training Program and its impact for STBIH

to evaluate the impact of the Program for the union status in Goražde region

to plan future cooperation
Content:
report on the project results (Group reports)

evaluation